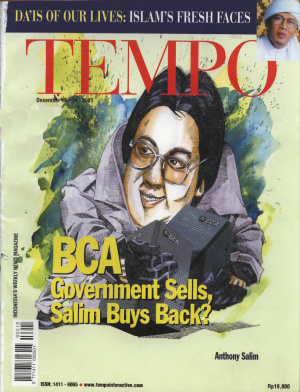 BCA, Government Sells, Salim Buys Back?
The Indonesian Bank Restructuring Agency (IBRA) is in a hurry to sell otT its assets. In a single week, two former Salim Group assets have changed hands: Indosiar, sold to TDM Asset Management for Rp775 billion, and Indomobil to Trimegah for Rp625 billion. In the next two weeks, it will be BCAs turn. Albeit a success, many suspect foul play behind the lightning-quick sale. Is Salim behind it all?
Keywords :
Sudono Salim
,
Bank Central Asia (BCA)
,
Views :
381
Tanggal Upload :
02-02-2013
Edisi
15/02
Tanggal Edisi
2001-12-24
Rubrik
Full Edition
Copyright
PT TEMPO Inti Media
Subyek -
Cover Story
Da'is Of Our Lives: Islam's Fresh Faces
Writer
-
BCA, Government Sells, Salim Buys Back?
Rp. 60.000
Alamat
PDAT Gedung Tempo Jl. Palmerah Barat No. 8 Jakarta 12210
Kontak
Phone / Fax: 62-21 536 0409 (ext. 321) / 62-21 536 0408 WA : 62 838 9392 0723 Email : pdat@tempo.co.id