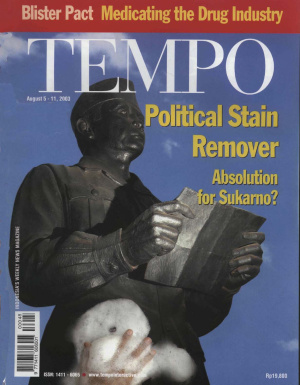 Political Stain Remover Absolution of Sukarno?
THE PEOPLE'S CONSULTATIVE ASSEMBLY (MPR) Annual Session (August 1-10) will concentrate on two main agendas: reviewing the MPR stipulations and discussing the Constitutional Court. But the exciting part will be the discussion on the Provisional Peoples\' Consultative Assembly (MPRS), especially the stipulation on the "sins" of Sukarno. PDI-P is fighting to rehabilitate the founding president's name. So far, there has been no direct challenge from the other parties. But several non PDI-P politicians have already questioned the annulment of the stipulations by arguing that the issues brought up are irrelevant. Will PDI-P succeed in "cleaning" Sukarno\'s name?
Keywords :
Soekarno
,
Views :
513
Tanggal Upload :
06-02-2013
Edisi
48/03
Tanggal Edisi
2003-08-11
Rubrik
Full Edition
Copyright
PT TEMPO Inti Media
Subyek -
Cover Story
Blister Pact Medicating The Drug Industry
Writer
-
Political Stain Remover Absolution of Sukarno?
Rp. 60.000
Alamat
PDAT Gedung Tempo Jl. Palmerah Barat No. 8 Jakarta 12210
Kontak
Phone / Fax: 62-21 536 0409 (ext. 321) / 62-21 536 0408 WA : 62 838 9392 0723 Email : pdat@tempo.co.id