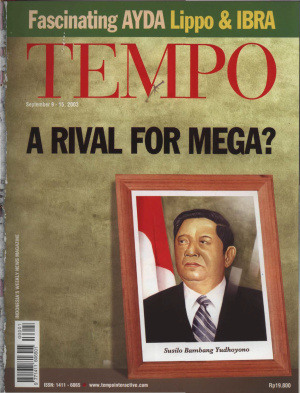 A Rival For Mega?
In the euphoria of nominating presidential candidates for the 2004 General Election, the name of Susilo Bambang Yudhoyono is slowly, but surely, shining. The results of polls conducted by several institutions indicate that the name of the Coordinating Minister for Politics & Security is rising. One poll by the Center for the Study of Democracy & Development even puts him as the top candidate. Why is he so popular? Is it true that he is just waiting for the right moment to rise to the presidency?
Keywords :
Susilo Bambang Yudhoyono
,
Megawati
,
Views :
327
Tanggal Upload :
06-02-2013
Edisi
01/04
Tanggal Edisi
2003-09-15
Rubrik
Full Edition
Copyright
PT TEMPO Inti Media
Subyek -
Cover Story
Fascinating AYDA Lippo & IBRA
Writer
-
A Rival For Mega?
Rp. 60.000
Alamat
PDAT Gedung Tempo Jl. Palmerah Barat No. 8 Jakarta 12210
Kontak
Phone / Fax: 62-21 536 0409 (ext. 321) / 62-21 536 0408 WA : 62 838 9392 0723 Email : pdat@tempo.co.id