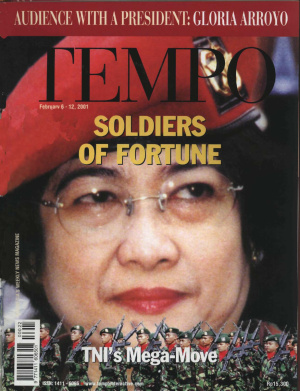 Soldiers of Fortune
President Abdurrahman Wahid's presidency is rocking following the House of Representatives\' decision to give him a memorandum (read official warning). Megawati Sukarnoputri and the military have also pulled back their support. However, the wily Wahid is not that easy to unseat. A presidential decree to dissolve the parliament is currently in the offing.
Keywords :
Megawati Soekarnoputri
,
Views :
333
Tanggal Upload :
03-01-2013
Edisi
22/01
Tanggal Edisi
2001-02-12
Rubrik
Full Edition
Copyright
PT TEMPO Inti Media
Subyek -
Cover Story
Audience With A President : Gloria Arroyo
Writer
-
Soldiers of Fortune
Rp. 60.000
Daftar datatempo.co, dapatkan berbagai data gratis!
Alamat
PDAT Gedung Tempo Jl. Palmerah Barat No. 8 Jakarta 12210
Kontak
Phone / Fax: 62-21 536 0409 (ext. 321) / 62-21 536 0408 WA : 62 838 9392 0723 Email : pdat@tempo.co.id