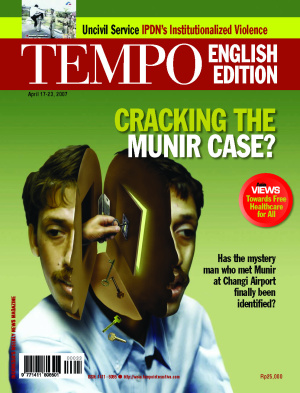 Cracking The Munir Case?
FRIDAY last week, police arrested two new suspects in the Munir case: PT Garuda Indonesia's former CEO, Indra Setiawan, and former deputy director for security, Ramelgia Anwar. Police also recovered new evidence from laboratory tests carried out in Seattle, USA, which show that Munir was murdered at Changi Airport, Singapore. A singer who has a close relationship with the military is also suspected to be involved in this case.
Keywords :
Munir Case
,
Views :
362
Tanggal Upload :
13-01-2013
Edisi
33/07
Tanggal Edisi
2007-04-23
Rubrik
Full Edition
Copyright
PT TEMPO Inti Media
Subyek -
Cover Story
Uncivil Service IPDN's Institutionalized Violence
Writer
-
Cracking The Munir Case?
Rp. 60.000
Alamat
PDAT Gedung Tempo Jl. Palmerah Barat No. 8 Jakarta 12210
Kontak
Phone / Fax: 62-21 536 0409 (ext. 321) / 62-21 536 0408 WA : 62 838 9392 0723 Email : pdat@tempo.co.id