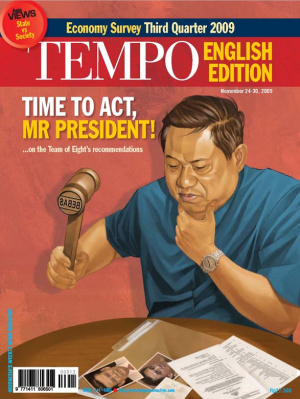 Time To Act, Mr President!
ON Monday this week, President Susilo Bambang Yudhoyono is slated to respond to the Team of Eight's recommendations over the Bibit-Chandra case. Will the team's recommendation that the President halt the case be shelved? Will the drama of the socalled house lizard versus crocodile—the term used to describe the conflict between the Corruption Eradication Commission and the police—end up in court?
Keywords :
Susilo Bambang Yudhoyono
,
Views :
470
Tanggal Upload :
05-03-2013
Edisi
13/10
Tanggal Edisi
2009-11-30
Rubrik
Full Edition
Copyright
PT TEMPO Inti Media
Subyek -
Cover Story
Economy Survey Third Quarter 2009
Writer
-
Time To Act, Mr President!
Rp. 60.000
Alamat
PDAT Gedung Tempo Jl. Palmerah Barat No. 8 Jakarta 12210
Kontak
Phone / Fax: 62-21 536 0409 (ext. 321) / 62-21 536 0408 WA : 62 838 9392 0723 Email : pdat@tempo.co.id