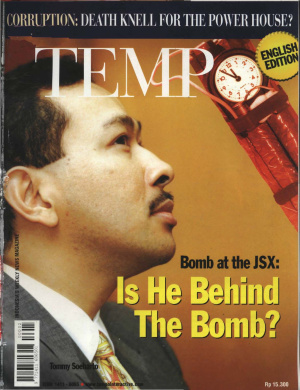 Is He Behind The Bomb?
Another bomb exploded in Jakarta, coinciding with the trial of former president Suharto. This time, 15 people were killed. Is Suharto's son Tommy behind the bombing? Or is there another group wanting to make Suharto the scapegoat? Who is responsible for this latest sickening and cowardly terrorist attack? And who benefits from the accelerated confusion and instability?
Keywords :
Tommy Soeharto
,
Views :
398
Tanggal Upload :
01-02-2013
Edisi
02/01
Tanggal Edisi
2000-09-25
Rubrik
Full Edition
Copyright
PT TEMPO Inti Media
Subyek -
Cover Story
Corruption: Death Knell For The Power House?
Writer
-
Is He Behind The Bomb?
Rp. 60.000
Alamat
PDAT Gedung Tempo Jl. Palmerah Barat No. 8 Jakarta 12210
Kontak
Phone / Fax: 62-21 536 0409 (ext. 321) / 62-21 536 0408 WA : 62 838 9392 0723 Email : pdat@tempo.co.id