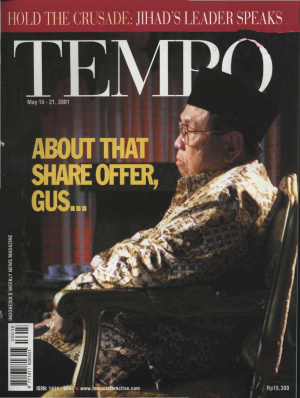 About That Share Offer, Gus...
Delegation of power to Vice President Megawati Sukarnoputri through a People's Consultative Assembly (MPR) decree is a solution proposed by the 'Team of Seven'. President Abdurrahman Wahid will not be unseated, his role will merely be symbolic. Yet he turned the proposal down. Is a compromise completely out of the question?
Keywords :
Gus Dur
,
Views :
514
Tanggal Upload :
02-02-2013
Edisi
36/01
Tanggal Edisi
2001-05-21
Rubrik
Full Edition
Copyright
PT TEMPO Inti Media
Subyek -
Cover Story
Hold The Crusade : Jihad's Leader Speak
Writer
-
About That Share Offer, Gus...
Rp. 60.000
Alamat
PDAT Gedung Tempo Jl. Palmerah Barat No. 8 Jakarta 12210
Kontak
Phone / Fax: 62-21 536 0409 (ext. 321) / 62-21 536 0408 WA : 62 838 9392 0723 Email : pdat@tempo.co.id