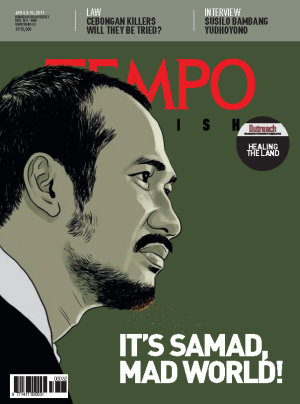 It's Samad, Mad World!
THE KPK Ethics Committee found Abraham Samad, chairman of the anti-graft commission, guilty of committing an ethical violation, when his assistant was found to have leaked an internal document to the media. Although he was not directly guilty of the infraction, the ethics committee censured him for his negligence in administering an offi ce tasked with sensitive issues. Interestingly, the committee exposed some friction among the leaders and the different views among them on how to approach certain corruption cases. Is the anti-graft body as apolitical as its members claim to be?
Keywords :
Abraham Samad
,
Views :
408
Tanggal Upload :
09-04-2013
Edisi
11/14
Tanggal Edisi
2013-04-08
Rubrik
Full Edition
Copyright
PT TEMPO Inti Media
Subyek -
Cover Story
Law: Sebongan Killers Will They Be Tried?, Interview: Susilo Bambang Yudhoyono; Outreach: Healing The Land
Writer
-
It's Samad, Mad World!
Rp. 60.000
Alamat
PDAT Gedung Tempo Jl. Palmerah Barat No. 8 Jakarta 12210
Kontak
Phone / Fax: 62-21 536 0409 (ext. 321) / 62-21 536 0408 WA : 62 838 9392 0723 Email : pdat@tempo.co.id