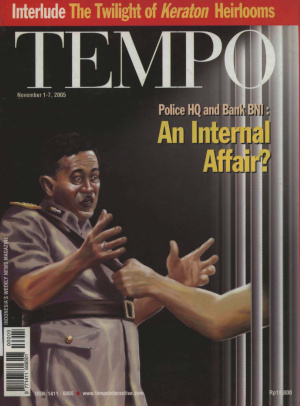 Police HQ and Bank BNI : An Internal Affair?
REPORTS emerged recently of the suspected involvement of a police general in receiving bribes from embezzlers of money from state-owned BNI bank. No less an individual than a former National Police Chief and the former head of the detective division stand accused of receiving illicit funds while they were in office. And the accuser is no ordinary person: he is a senior officer who is now a suspect in the same corruption case. Now the police are investigating these suspicions. But will they be able to solve a case involving other officers? Or even their former boss?
Keywords :
Bank BNI Case
,
Views :
503
Tanggal Upload :
08-02-2013
Edisi
09/06
Tanggal Edisi
2005-11-07
Rubrik
Full Edition
Copyright
PT TEMPO Inti Media
Subyek -
Cover Story
Interlude The Twilight of Keraton Heirlooms
Writer
-
Police HQ and Bank BNI : An Internal Affair?
Rp. 60.000
Alamat
PDAT Gedung Tempo Jl. Palmerah Barat No. 8 Jakarta 12210
Kontak
Phone / Fax: 62-21 536 0409 (ext. 321) / 62-21 536 0408 WA : 62 838 9392 0723 Email : pdat@tempo.co.id